For many students, summer vacation means a leisurely and relaxing break from school. But it can also present challenges—academic and beyond.
Educators know summer learning loss is a real issue, and it contributes to achievement gaps for all kinds of learners. Teachers can help fight this academic summer slide by providing summer reading challenges, gifting an end-of-year book to students, or checking in with families over the summer, among other things.
But beyond academics, solutions can be harder to find. Schools meet important needs ranging from nutrition to shelter during the school year. Where can students and their families find those services during summer break?
Here are some resources and contacts you can share with families who might need help, or who know someone who does.
School Lunch and Nutrition Alternatives

During the school year, many families rely on school lunches and breakfasts to provide proper nutrition for their children. When summer arrives, the loss of those regular meals can mean a big strain for families. In fact, one in six children face food insecurity.[1]
Fortunately, there are options to help over the summer.. In response to the COVID-19 pandemic, the federal government recently introduced waivers to continue curbside school lunch pick-ups, or other flexible meal options, through the summer months so students can continue getting meals when school is out.
Other options for nutrition for your students and their families include neighborhood food banks, help with SNAP or WIC benefits, tribal aid, and more. You can find our roundup of food assistance programs here.
The USDA's National Hunger Clearinghouse can help people connect with food assistance near them. Operators take calls from 7AM to 10PM Eastern Time. You can access the clearinghouse by phone at 1-866-3-HUNGRY, or 1-877-8-HAMBRE for Spanish, or by texting "Food" or "Summer" to 97779.
Staying Cool: LIHEAP and Help with Air Conditioning
A sweltering summer can be brutal on children who live in homes without air conditioning. For families having trouble affording an air conditioning unit, or paying utility bills, there are resources they can use, starting with LIHEAP.
What is LIHEAP? The Low Income Home Energy Assistance Program is a federal program that helps families with energy costs, including air conditioning in summer or heating in winter. Federal funds are distributed to states or tribal agencies to aid families with cooling (or heating) costs.
You can find LIHEAP contacts and income and eligibility guidelines by state or territory here. Tribal contacts for Native American students are listed by state here.
Often local and private charities or religious organizations can help provide an air conditioner for families in critical need.
Finding Affordable Summer Child Care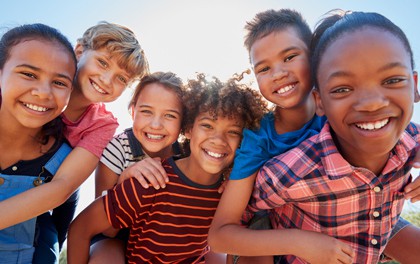 Schools are safe, supervised places for children to stay during the day. That can be a blessing for working families.
When summer comes, those same families often face some difficult choices. Cutting back on working hours is rarely possible, and leaving children alone at home is never ideal. Furthermore, paying for childcare can be prohibitively expensive for many working families. According to Child Care Aware of America, child care is one of the largest items in family monthly budgets, often even rivaling or surpassing the cost of housing.[3]
If your students' families are facing these difficult decisions, there is help available in finding and affording safe, quality childcare.
Direct financial assistance programs can help families pay for childcare. States get federal funding to offer child care subsidies to families. Eligibility requirements vary by state. Families can search your state's child care resources at ChildCare.gov.
Head Start and Early Head Start programs across the country help children from birth through age 5 prepare for school, while also offering other services. Families who meet certain income or other requirements may be eligible for Head Start. Families can search for local programs and get information on how to apply here.
Military families can get child care assistance through programs managed by Child Care Aware of America. Different branches have different eligibility requirements and application processes. Families can find their branch to begin the process on ChildCare.gov.
Native American tribes receive grants from the federal government to help tribal members secure child care. Families can find a list of tribal grantees by state at the National Center on Tribal Early Childhood Development's state directory. Many tribes also run Head Start centers for members. You can locate them here.
Other Summer Activities and Free Camps
Summer camps are a big part of summer vacation for some children. While many such programs are expensive to attend, there are free or cheap alternative summer camps available for children. These help students keep their minds and bodies active while getting them involved in nature, arts, or other interests.
Public libraries across America often hold activities, camps, or other ways for children to pass some air-conditioned time during the summer. Offerings vary by area, so check with your local library for events.
Local Parks and Recreation departments ramp up activities during the summer, offering sports, arts, or other special activities. Again, prices and offerings vary by city or region, but many offer sliding scale fees or discounts for families who need them.
Private organizations like the YMCA or Salvation Army offer fun activities for low-income families. Some camps are free, while others cost money. You can find Salvation Army camps here, or YMCA camps here. Neighborhood religious institutions often offer free or nominal-cost day camps for children.
There's no single answer to helping students over the summertime, when the resources their families depend on during the school year typically dry up. Fortunately, assistance from federal, state, and local governments and private organizations can help fill the gap so that students don't face unnecessary hardships that can affect their learning and development.
Sources: Feeding America. "The Impact of the Coronavirus on Food Insecurity in 2020 2021." March 2021. https://www.feedingamerica.org/sites/default/files/2021-03/National%20Projections%20Brief_3.9.2021_0.pdf
Gold, Kenneth M. "From Vacation to Summer School: The Transformation of Summer Education in New York City, 1894-1915. History of Education Quarterly. February 2017. https://www.cambridge.org/core/journals/history-of-education-quarterly/article/abs/from-vacation-to-summer-school-the-transformation-of-summer-education-in-new-york-city-18941915/0610EABA788FDD1576721A8EE2BD3D7C
ChildCare Aware of America. "Parents and the High Cost of Child Care." 2017. https://www.childcareaware.org/wp-content/uploads/2017/12/2017_CCA_High_Cost_Report_FINAL.pdf