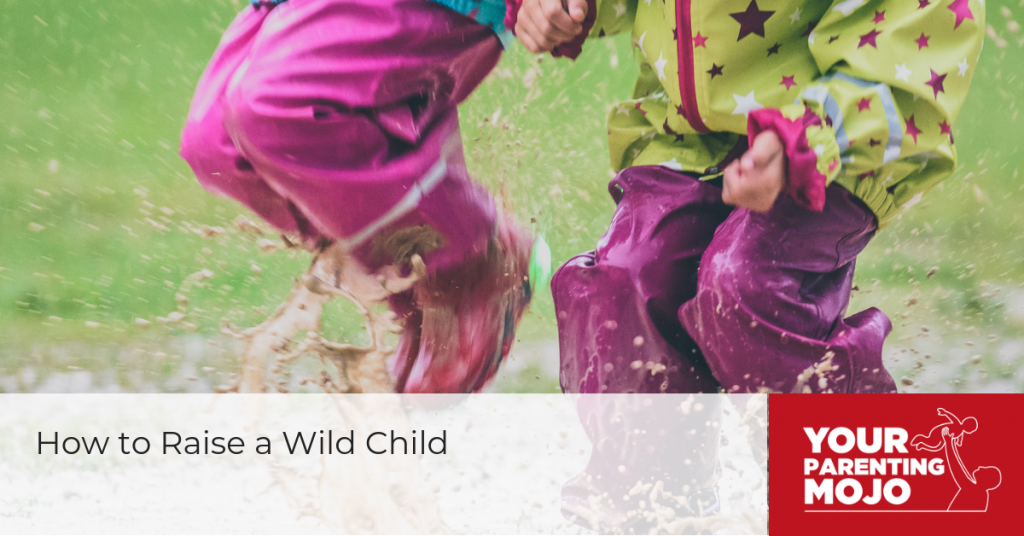 How do you feel about getting outdoors?
Do you look forward to it and love every minute of it while you're out?
Or do you dread it…the cold (or heat, depending on where you are…), the bugs, the dirt (the dirt!)?
And what about the endless questions that you don't know how to answer: "What's this?"  "Why is it doing that?"  "Why can't I jump in that really deep puddle?"
It can be daunting, especially if you weren't outdoorsy as a kid.  So what can you do?
Getting outdoors has many benefits for brain development
Spring is pretty much here for those of us in the northern hemisphere (have a nice winter, southerners!), so it's a great time to revisit some of your parenting goals around being outdoors.  As I mentioned in my episode on this topic, if outdoor play could be put in a bottle and sold, someone would be a billionaire.  It's difficult to 'prove' that these benefits are 100% caused by outdoor play since very little of the research in this area is experimental, but we know that there are strong associations between outdoor play and:
Improved working memory, and reduced ADHD symptoms;
Social and emotional development (which is particularly associated with unstructured play where children get to make up the rules and adults don't supervise too closely);
Executive function development, from setting and working toward achieving goals and the cognitive load associated with complex motor movements.
…and what you do when you get there is important too
Once we get outside, we might be tempted to shout "be careful" and "don't do that!" every thirty seconds, but our children will actually benefit from being outside far more if we can find it in ourselves to hold our tongues.  Parents in other cultures are far more comfortable with risk than we are, and routinely allow their preschool-aged children to play out of their sight, climb 30 foot cliffs without protection or close supervision, use tools like hammers and saws, and sled down steep hills.  Children are learning how to find the line between excitement and danger, and while we might think that children would naturally avoid risk just as they avoid new foods, it turns out that they need to learn to manage risk when they're young to manage it effectively when they're older:
Play involving heights and high speeds helps children to develop perceptional abilities related to depth, form, shape, size, and movement – skills important both in childhood and adulthood;
Phobias related to heights and water do not arise from accidents while young; in fact, playing near these dangerous elements can help to overcome natural phobias;
Risky play may improve children's self-confidence, mental health, risk management, and independence.
HOW to get outside
But in spite of all these benefits, many parents don't spend as much time outdoors with their children as they'd like.  There's not enough time; the kids don't like being outside anyway; you wouldn't know what to do when you get there; you wouldn't know who to go with; the whole thing just seems…intimidating.
Dr. Scott Sampson (yep, the Dinosaur Train host!) has a ton of suggestions for us on that front:
Firstly, position the outing as an "adventure," not a "hike" or anything they might object to;
Secondly, consider having one activity in mind, but also allow unstructured time for free play; We like to do a hike or bike ride to some kind of focal point (often a stream or waterfall – children can't resist water) and allow lots of time for adults to just sit around there with no agenda while the children play;
If your child asks you a question to which you don't know the answer, don't worry! See if you and your child can figure out the answer together based on what you do  And if you can't, just jot it down on a piece of paper or in your phone, and work with your child to find the answer when you get home.  Your child will learn not just the answer, but that you find their questions important enough to answer…
You can also gather up a group of friends to go out with: just send all your friends, your child's friends' parents, and all the parents in their daycare/preschool class a note asking if they want to be on a list of people you email when you're going out.  You'll probably find that there are many other parents who are really interested in doing this along with you!
Your inbox is sacred. We will never share your email nor take advantage of your trust.
Powered By ConvertKit
About the author, Jen
Jen Lumanlan (M.S., M.Ed.) hosts the Your Parenting Mojo podcast (www.YourParentingMojo.com), which examines scientific research related to child development through the lens of respectful parenting.
Her Finding Your Parenting Mojo membership group supports parents in putting the research into action in their real lives, with their real families. Find more info at www.YourParentingMojo.com/Membership
She also launched the most comprehensive course available to help parents decide whether homeschooling could be right for their family. Find out more about it – and take a free seven-question quiz to get a personalized assessment of your own homeschooling readiness at www.YourHomeschoolingMojo.com
And for parents who are committed to public school but recognize the limitations in that system, she has a course to help support children's learning in school at https://jenlumanlan.teachable.com/p/school
This post first appeared on
Your Parenting Mojo
.